Kathy Bast and Sunrise Farms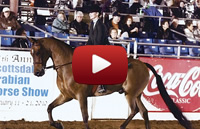 Sunrise Farms Performance Horses is a full service facility offering full time and part time training as well as horse evaluation to suit client needs. SFPH is located 20 minutes from San Diego International Airport. San Diego provides an exciting vacation town experience for our out of town clients.
Kathy Bast is Sunrise Farm's owner and head trainer and has been involved with horses for over 25 years. While her primary focus is Arabians, she also has extensive training experience with Quarter Horses and Mixed Breeds. Kathy's accomplishments include multiple National, Regional, and Scottsdale Championships/Reserve Championships and Top Tens in Trail, Western Pleasure, and Hunter Pleasure. Her list of client accomplishments in these same areas as well as Showmanship, Horsemanship, Native Costume, Show Hack, and Halter mirrors her own success.
Read More
Recent News
August 11, 2013 |
 58th Annual SCOTTSDALE ARABIAN HORSE SHOW 2013 Serannada+// ~ Owned by Sandy Robinson Trail AOTR- 1st place of 11 ~ Ian Robinson Trail ATR- 1st place of 8 ~ Sandy Robinson Trail Open- 1st place of 9 ~...
Read More