About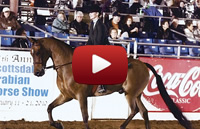 Sunrise Farms Performance Horses is a full service facility offering full time and part time training as well as horse evaluation to suit client needs. SFPH is located 20 minutes from San Diego International Airport. San Diego provides an exciting vacation town experience for our out of town clients.
Kathy Bast is Sunrise Farm's owner and head trainer and has been involved with horses for over 30 years. While her primary focus has been Arabians, she also has extensive training experience with Paint Horses, Quarter Horses and Mixed Breeds. Kathy's accomplishments include multiple National, Regional, and Scottsdale Championships/Reserve Championships and Top Tens in Trail, Western Pleasure, and Hunter Pleasure. Her list of client accomplishments in these same areas as well as Showmanship, Horsemanship, Native Costume, Show Hack, and Halter mirrors her own success.
In addition to show ring success, Kathy has ea
rned the respect of her fellow trainers and peers and was named 2002 Region One Working Western trainer of the year. Kathy gets immense satisfaction from helping her amateur riders achieve their goals and dreams, whether those dreams involve National Championships or developing trail horses they can ride and enjoy.
Kathy understands that success comes through hard work and dedication. Her calm, confident training style makes her a natural to work with horses young and old. When training a horse and rider, Kathy's focus is to create an enjoyable partnership in which both horse and rider build confidence in their skills, and feel competent to do their jobs. Her amateurs love her training style. This is evident by their commitment to the show barn. Most of her clients have been with her for many years, and many of them have had Kathy train multiple horses.
Sunrise Farms attends most major shows including Scottsdale and Nationals as well as Pacific Slopes and Region 1, Region 2, and Region 7 in addition to 2-3 A rated shows per year. APHA & Open Breed shows have been added to the schedule as well in 2019. Kathy's husband Jon is not only her committed partner who manages much of the facility maintenance and upkeep, but also an accomplished draft horse trainer and farrier. Jon does all of the farrier work on Sunrise Farms horses in training and attends many shows and conferences to stay up to date on all the latest showing standards as well as preventative and corrective shoeing techniques.
We would love to add you and your horse to our barn family. Please feel free to contact us with any questions and thanks for stopping by.